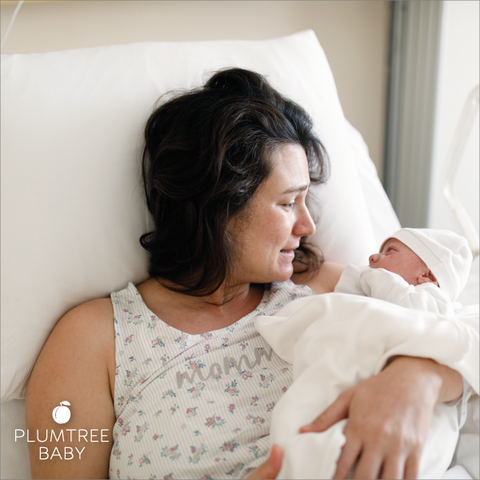 Six ways to prepare for baby (not just birth)
You've spent months learning and preparing for labor and the birth of your child, and then the moment comes: the birth is over and in your arms you have a tiny human who is beautiful, perfect… and entirely dependent on you. Preparing for your little one's arrival goes well beyond setting up a crib or deciding on a diaper brand. As is often the case with the biggest events in life, the most important things aren't really "things" at all but steps that you can take and connections you can make – including connections within yourself.  Here are six things that you can do now to get ready for this new chapter of your life, beyond the birth.  
1. Rally the reinforcements and get on the same page
Family and friends are often eager to meet your new little one and lend a helping hand, so talk with them ahead of time about how they can best help you out after birth. This goes for your husband or partner, as well. As close as you are, he isn't a mind reader, so if you want him to bring you snacks or water while you're breastfeeding (for what seems like the millionth time that day), let him know. It won't take him long to get into the routine with you, but this is a big change for everyone, so the more you can clearly communicate your needs early on, the more easily those needs can be met by the people who care about you. This article is full of suggestions for ways that friends and family can help in the early days.
2. Fill your freezer
Having a stash of healthy, easy-to-prepare meals is a great way to help you regain your strength as your body recovers from the many major changes it underwent during pregnancy, labor, and birth. You want meals that are hearty and easy to prepare, like vegetable lasagna that you can throw in the oven or a protein-packed chili that you can put into the crockpot to warm. There are lots of great freezer recipes available online, so choose a few and a take an afternoon or evening to prepare several. Muffins, breads, and cookies (including lactation cookies!) are also easy-to-freeze treats that will satisfy your snack cravings.
3. Keep up with the daily chores
Oh yes, I saw your face drop at this one and I get it. Your feet are swollen, your back is sore, you're completely exhausted and the last thing you want to do is laundry or dishes. It's tempting to let things pile up so you can put your feet up, but as much as don't want to take care of daily chores now, you'll want to do them even less once you're home with a newborn. Do yourself a favor now and try to keep up as best you can. No one is going to come do a white glove inspection so don't feel you have to go overboard, but you'll be so glad if you come home and have clean sweatpants to put on and a clean coffee mug to fill.  Since you can never be entirely sure when your baby is going to arrive, one of the best things you can do for yourself is to try to keep up as much as you can.
4. Have self-care items ready
After months of not needing menstrual pads, it can be easy to forget to have these oh-so-necessary items ready when you arrive home. You may also want to have a sitz bath (which can be found relatively inexpensively online or at your local drug store) and herbal soaks or salves (also commercially available in drug stores and online) ready to help your body heal. Pre-make soothing, frozen pads (aka "padsicles") with witch hazel and aloe to help ease the discomfort of those early days.
5. Find a physician for your baby
One of the best ways to find a caring, knowledgeable pediatrician or family doctor is by asking friends and family about their experiences. You want a doctor who shares your philosophies, will take time to really talk with you about your child, answer questions, and work with you as a partner in caring for them. Many offices offer a dedicated nurse line for questions, which most parents have many of in the early days, so that's something you might want to ask about. Ease of contacting them and availability of appointments are also important factors to consider. Remember, also, that you can always take another look if you find that the relationship isn't working for you or meeting the needs of your child.
6. Know your goals and how to achieve them
For example, many new mothers have a goal of breastfeeding, but don't plan always ahead about how to best accomplish that. Rooming in and lots of skin-to-skin contact immediately and often, for example, have been shown as simple and effective ways to increase a mother's chance of meeting her breastfeeding goals. Similarly, feeding your baby on demand rather than on a schedule will help to establish and maintain a healthy milk supply. Once you've identified your goals, make sure you understand how to best achieve them. (The Plumtree Baby's Settling In with Baby booklet is a great resource to get you started.) If you aren't sure then ask for help or ideas from your care provider, a lactation consultant, or your pediatrician.
Jennifer Stutzman, Freelance Writer
Disclaimer: All content provided is for educational and informational purposes only, and should not be construed as medical advice. These statements are not intended to diagnose, treat, cure or prevent any disease and no alterations in lifestyle should be taken solely on the contents of this website. Consult your physician on any topics regarding your health and pregnancy. Plumtree Baby, LLC does not assume any liability for the information contained herein, be it direct, indirect, consequential, special, exemplary or other damages.
Copyright 2015 © All Rights Reserved
Plumtree Baby, LLC
---