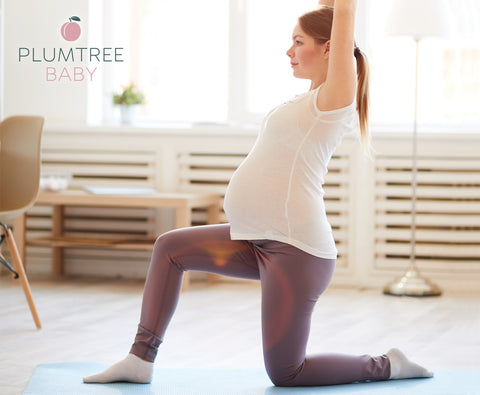 Incorporating pregnancy fitness into your classes
Exercise has many benefits during pregnancy, so it's a concept worth introducing in your childbirth education classes. You don't have to go into great detail, but encouraging exercise sets your clients up for a healthier pregnancy, birth, and postpartum. An added bonus? Teaching some simple pregnancy-friendly exercises is a great way to get your clients up and moving during class and can increase focus and participation.
The Importance Of Physical Activity During Pregnancy
According to the American College of Obstetrics and Gynecology (AGOG), engaging in exercise during pregnancy results in fewer complications like gestational diabetes or C-section births. Clients who exercise are also more likely to have a smoother postpartum recovery, and may be less prone to postpartum depression.
Walking, swimming, yoga, riding an exercise bike, light aerobics, and Pilates are some exercises that work well during pregnancy. Exercises may need to be modified during pregnancy. For example, clients should avoid exercises that require lying on their back for extended periods of time, and should make sure to stay well hydrated.
Exercises to avoid in pregnancy include:
Contact sports
Skydiving
Hot yoga
Scuba diving
Skiing or horseback riding (because of the risk of falling)
High altitude sports
Still, most low risk clients can engage in exercise throughout their pregnancies, and it's highly recommended by OB-GYNs and midwives. You can encourage your clients to experiment with different types of exercise until they find one that works best for them.
Here are some ideas for incorporating pregnancy fitness into your classes:
Start and End Class With Yoga Poses
Bookmarking your classes with yoga poses is a fantastic way to get your clients engaged, relaxed, and grounded. Focusing on a few familiar yoga poses each class will help your clients remember the poses. This can come in handy during labor: your clients will be experts at these poses and will have them at their disposal.
Some pregnancy and labor-friendly yoga poses to consider:
Child's pose: In this pose, you kneel and sit down flat on your heels. Then, you gently stretch forward over your legs and extend your arms in front of you, breathing deeply. Pregnant women will need to widen their legs as their belly grows. Child's pose is a wonderful way to length the muscles surrounding your pelvic floor and to release tension.
Deep squatting: In this pose, you stand with your feet wider than your hips and then slowly squat down, only going down as far as is comfortable. This pose strengthens your pelvic floor, opens up your hips, and can help stretch the perineum.
Cat-cow pose: To do this pose, you get down on your hands and knees. First, you exhale, rounding your back and looking down at the floor. Next, you inhale, extend your back and look up at the ceiling. This pose can help stretch your back muscles and strengthen your abdominal muscles.
Small Group Brainstorming Activities
Often, the idea of fitting in exercise into a busy life can feel overwhelming. Consider having your clients break into small groups to brainstorm ways that exercise can be a part of their pregnancy. Hearing how others fit exercise into their lives can be inspiring, and knowing that this may be a struggle for others can make your clients feel less alone.
Partner With Local Fitness Businesses
Everyone loves free stuff. Consider reaching out to local exercise centers or teachers who would like to offer free class vouchers or demonstrations to your students. You may want to consider having a teacher come into class and share some pregnancy-friendly exercises with your students. This can be a good promotional opportunity for the teacher, and can provide hands-on education for your students.
Keep It Open and Positive
The idea of exercise can elicit lots of feelings in expectant parents. They may feel scared that certain exercises will harm their baby, they may feel too exhausted to add exercise into their days, or they may feel that they have no time for exercise. Clients who have been avid exercisers may feel unhappy about having to modify their routines during pregnancy.
As you discuss exercise during pregnancy, remember that everyone has different experiences and perspectives. Offer evidence-based information about the benefits of exercise and modifications needed, but be open to the unique feelings that your clients may have.
Finally, keep the mood positive. Exercise during pregnancy isn't about perfection and looks different for each person. The bottom line is that exercise is about joyfully moving your body in a way that fits your vibe and lifestyle.
For more resources on pregnancy fitness, health and labor preparation, view our Healthy Pregnancy collection.
Wendy Wisner, Writer & Lactation Consultant (IBCLC) 
Disclaimer: All content provided is for educational and informational purposes only, and should not be construed as medical advice. These statements are not intended to diagnose, treat, cure or prevent any disease and no alterations in exercise should be taken solely on the contents of this website. Consult your physician on any topics regarding your health and fitness. Plumtree Baby, LLC does not assume any liability for the information contained herein, be it direct, indirect, consequential, special, exemplary or other damages.
Copyright 2023 © All Rights Reserved
Plumtree Baby, LLC
---