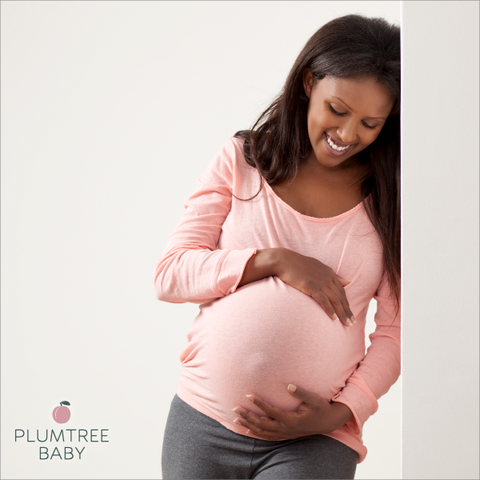 What to Wear for Birth
As with every step of planning for and going through your birthing journey, you want to be true to yourself when choosing what to wear. There are no hard and fast rules, but there are some tried-and-true pieces of advice to help make you comfortable from early labor until the moment you're cradling your newborn in your arms. Here are our suggestions:
Comfort and Movement
Since you are likely to fluctuate between feeling warm and cold at various points during labor and birth, choose light layers so that your clothing can adjust easily with your needs. Ease of movement is also key – so consider what will be best for walking, moving on a birthing ball, squatting or stretching. There are companies (such as Pretty Pushers) that make cute and comfortable birthing gowns (sometimes also called delivery gowns) which vary in both cost and material. These can be a fun option but not a necessity. Your own clothes can do the job just as well.
If having your hair in your face will be an annoyance, make sure to have a headband or bobby pins to keep hair tucked back.
If you're planning to labor in water or are having a water birth, consider what will make you most comfortable. For some moms, this will mean no clothing once in the tub or shower. Other mothers may prefer a swim top or tank for some coverage or breast support – either way, you'll want to make sure that your choice will easily accommodate skin-to-skin contact and breastfeeding immediately after birth.
Suggestions:
Lightweight, cotton sports bra or sleep nursing bra – something with support but without underwire or uncomfortable padding. 
Pants, shorts or skirt with stretch – movement is your friend, so you'll want your clothes to have plenty of stretch to move with you.
Flip flops, slippers or shoes that dry easily – you make choose not to be barefoot if the floor of a birth center or hospital is cold, but you'll want shoes that can be taken on and off easily and that will dry quickly if they get wet.
Avoid harsh detergents or fragrances on clothing that you'll be wearing when holding and breastfeeding your baby directly after birth.
Meaning
Clothing is an element of self-expression, so you can use it as a fun and personal avenue to express your philosophy about birth.  Just because you choose to give birth in a hospital, for example, doesn't mean you are sick or need to wear a hospital gown. Staying in your own clothes can be a simple yet concrete way to claim autonomy over yourself and your body throughout labor and birth.
Suggestions:
Make it memorable by borrowing an item from a loved one or family member (with their full understanding that they may not get the item back, of course). Maybe someone who is close to you won't be able to make it to the birth or you'd prefer to keep the birth more private between you and your partner. You can still feel the presence of a mother, sister or close friend in a cardigan that was theirs.
Make it a family affair: If this is your second or third baby, you can take the older sibling(s) with you to the store (or even just your own closet!) to help you pick out something to wear. Big brothers or sisters will love helping mom prepare for this exciting day.
Meaningful jewelry can be used as a focal point when laboring through contractions. Extremely valuable or irreplaceable pieces are best left at home, but jewelry can be meaningful without being expensive.
Have pregnant friends? Host a girls' night and use thread or beads to make simple labor bracelets for each other to symbolize unity and support in this journey. It takes a village to raise a child, and it certainly doesn't hurt to have your village behind you from the very start.
Other Comfort Ideas
These ideas can help make your labor more comfortable, relaxing and calm. For more ideas, check out our Finding Comfort booklet which is filled with practical tips for managing labor and photos of useful labor positions. 
Jennifer Stutzman, Freelance Writer
Disclaimer: All content provided is for educational and informational purposes only, and should not be construed as medical advice. These statements are not intended to diagnose, treat, cure or prevent any disease and no alterations in lifestyle should be taken solely on the contents of this website. Consult your physician on any topics regarding your health and pregnancy. Plumtree Baby, LLC does not assume any liability for the information contained herein, be it direct, indirect, consequential, special, exemplary or other damages.
Copyright 2016 © All Rights Reserved
Plumtree Baby, LLC
---