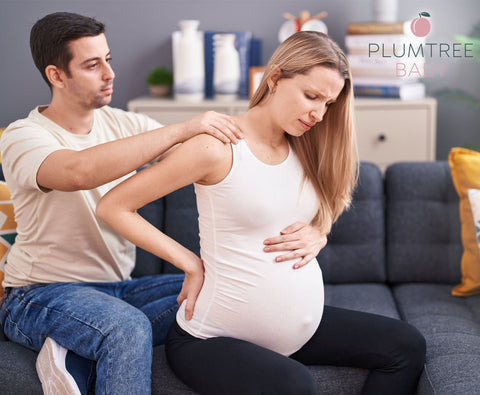 Rating Labor: Pain vs Coping Scales
When the topic of labor and childbirth comes up, one of the first words that usually pops into our minds is "pain." But while pain is certainly experienced by birthing women, the perception of that pain is influenced by many factors, including the type of support received, other sensations experienced in the body, feelings of stress, and our perceptions of fear about what is happening.
Not only that, but "pain" during labor doesn't account for other aspects of the labor experience such as how long each contraction is, how long the breaks are between contractions, and how many hours the woman has been in labor. Furthermore, how we cope with our feelings of pain influences how we experience it and how we might rate its intensity.
As such, when we talk about coping with the pain of childbirth with our childbirth education students, it can be helpful to introduce the idea of pain in a more holistic way. This is where the "Coping With Labor Algorithm" can come in handy.
What is the Coping With Labor Algorithm?
According to the Journal of Midwifery & Women's Health, the coping with labor algorithm was developed by nurses and midwives at the University of Utah Hospital. It evolved in response to the implementation of the Numeric Rating Scale at the hospital, which asked patients to rate their labor pain on a scale of zero to 10.
When the Numeric Rating Scale was used, women in labor felt a mixture of confusion and annoyance about how to respond. Thus, the coping with labor algorithm was developed as an alternative to help these women discuss and rate their experience of labor pain.
There are two aspects that the coping with labor algorithm evaluates:
Outward cues that demonstrate how the mother is coping with labor, including what her breathing is like, how much she's able to relax between contraction, whether she's focused inwardly, and any vocalizations she may be making to manage her pain.
Outward cues that a mother may not be coping well with labor, such as crying, screaming, biting, clawing, sharing that she can't cope, and seeming unable to concentrate.
After implementing the coping with labor algorithm for a two week trial period, followed by a 6 month trial period, the algorithm was implemented at the hospital and eventually became the primary way that nurses and midwives evaluate pain among their patients. The coping with labor algorithm has been in use at University of Utah Hospital since 2006.
Benefits of the Coping With Labor Algorithm
As noted in the Journal of Midwifery & Women's Health, the coping with labor algorithm allows a birthing woman to shift focus from calculating her labor pain, and instead focus on how she is coping with it.
It also teaches women that the experience of pain is influenced by multiple aspects, including:
Support from partners, labor support people, and health providers.
Your own personal, cultural, and social value system.
The setting where you are giving birth.
How To Use The Coping With Labor Algorithm With Your Students
Teaching your students that pain is more multifaceted than simply an uncomfortable and challenging physical sensation is a powerful lesson. In labor, increasing sensations of pain are indications that labor is moving forward, which is positive. Moreover, focusing strictly on pain can often make the pain worse. Finally, doing so can decrease your ability to cope with the pain.
The coping with labor algorithm is a tool that parents and labor support people can use to assess how well the birthing mom is coping during labor. It can also help them understand when new coping techniques are needed or when it may be time to ask for extra support from providers.
Discussing the idea of coping in labor vs. pain in labor can even be helpful with moms who are hoping to use pain medication during labor, as this concept can help them decide when in labor to ask for pain medication. Likewise, it can be helpful to mention that even moms who are experiencing low levels of pain because of pain relief medication can still experience distress, and learning to recognize and cope with that distress is vital during labor, whatever pain relief choices you make.
Our Labor Coping Scale poster is a wonderful asset to use with your students. It offers visual cues, numerical quantification, and descriptive language to help students understand and share how they are coping with labor in any given moment. We've also included the coping scale in our newest Preparing for Birth books, providing partners with a guide they can use during labor.
Wendy Wisner, Freelance Writer and Lactation Consultant (IBCLC)
Works Cited


Carvalho, Brendan MBBCh, FRCA*; Mhyre, Jill M. MD†. Moving Beyond the 0–10 Scale for Labor Pain Measurement. Anesthesia & Analgesia 123(6):p 1351-1353, December 2016. | DOI: 10.1213/ANE.0000000000001641
Horn G, D'Angelo D. Does the Coping Assessment for Laboring Moms (CALM) Scale Enhance Perception of Nursing Presence?. Nurs Womens Health. 2017;21(5):360-371. doi:10.1016/j.nwh.2017.07.002
Roberts L, Gulliver B, Fisher J, Cloyes KG. The coping with labor algorithm: an alternate pain assessment tool for the laboring woman. J Midwifery Womens Health. 2010;55(2):107-116. doi:10.1016/j.jmwh.2009.11.002
Disclaimer: All content provided is for educational and informational purposes only, and should not be construed as medical advice. These statements are not intended to diagnose, treat, cure or prevent any disease and no alterations in exercise should be taken solely on the contents of this website. Consult your physician on any topics regarding your health and fitness. Plumtree Baby, LLC does not assume any liability for the information contained herein, be it direct, indirect, consequential, special, exemplary or other damages.
Copyright 2023 © All Rights Reserved
Plumtree Baby, LLC
---